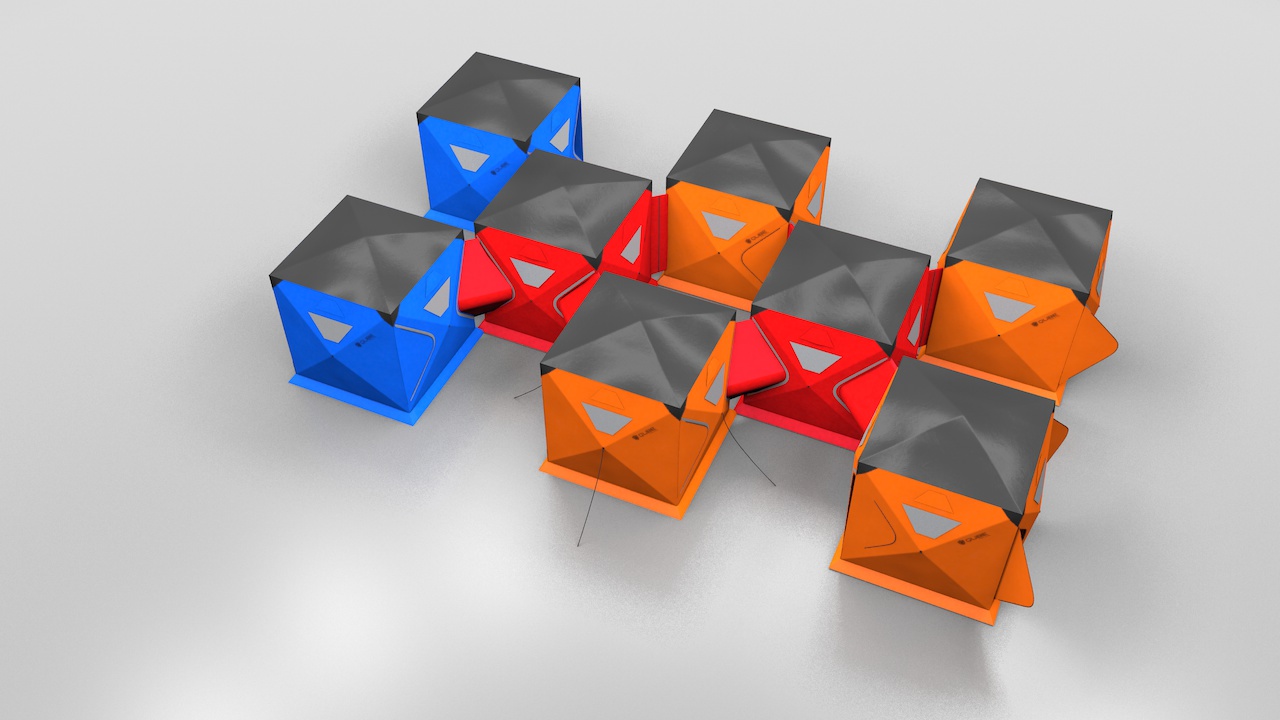 Qube Tents – Connectable Quick Pitch Tents
Qube Tents – Connectable Quick Pitch Tents
M2C Innovation Launches Ultra-Connective Qube Quick Pitch Tents Range
The smash hit modular tent system, M2C Innovation  has announced the launch of an accessible, ultra-connective new range.
POD tents were a viral success story in 2016 with over 60 million video views on Facebook, thanks to features from digital influencers such as David Wolfe, GI Gadgets, The Lad Bible, Insider Design and Fatherly. The clever system of interlocking tents provides a fun social camping experience, with users able to POD their space by connecting tents together to build a bespoke accommodation layout on the fly.
With many families now feeling the pinch of a higher cost of living, the original premium POD collection has had an accessible upgrade for spring 2017. The all new Qube collection is a lower cost alternative which calls on the spirit of POD designs to bring the ultimate in connectivity and convenience to a quick pitch tent. Packed with features, cleverly conceived and ready to go in just two minutes, it's the streamlined offspring of the POD modular tent for a new generation of explorers.
Jason Thorpe, company director of M2C Innovation, the designers behind POD said, "We knew right away that POD was a game changing addition to the camping sector but, we have also come to realise that there is a need for something a little cheaper. Not everyone can afford or wishes to spend a lot on a premium camping product in the face of economic uncertainly but still wants to get out and explore nature and make memories with friends and loved ones. This was the inspiration for our new Qube range.
"We already knew that campers loved the idea of connectivity so we used this as a starting point to create a different product for a different market. We went back to the drawing board and reengineered an old design. Qube was born."
A quick pitch tent that can be fully set up in under two minutes, the Qube is also just as easy to pack away, so no origami experts are required to fold it up, store it in the bag and head off on the next adventure.
Each Qube has a black lining to block out the sun, making it super dark inside and perfect for those all night festivals when bed time is determined by the sun coming up. There are also four windows to let the light into the Qube when the day gets going.
An extensive ventilation system ensures air flow is maximised and condensation is reduced inside the tent, giving a cool internal environment for a comfortable night's sleep. The clever design features include a window pocket sized to fit a solar panel so users can harness the power of the sun to charge up their devices.
The initial Qube range includes three size options (two, three and four man Qubes) and three colour variations (orange, red and blue). For those who want to connect their Qubes in style, bespoke colours will be offered later in the year. A single universal connector in grey joins any Qube variation together, for community connectivity on demand.
Qube is currently crowdfunding on Indiegogo with an expected delivery of July and August. To back the campaign and get connected with Qube, visit: https://www.indiegogo.com/projects/qube-tents-connectable-quick-pitch-tents/x/15973083#/
About Qube
Qube is a new generation of quick pitch, ultra-connectable tents by the design team behind the revolutionary POD range.  Qube is based on POD's social camping concept that enables tents to be interlinked in order to build a community and keep campers connected. Available in three sizes and colourways, Qube can be found on Indiegogo.